Charity Football Tournament
July 15 @ 9:30 am

-

5:00 pm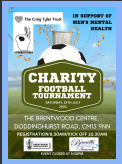 Bennetts Funerals are organizing a Charity football day in support of men's mental health awareness and suicide prevention. REGISTRATION 9.30AM / KICK OF 10.30AM
The football tournament and family fun day will have lots of other activities going on, aimed at all ages.
The main beneficiaries of the event will be The Craig Tyler Trust and Andys Man Club, two charities that do an amazing amount for the communities they represent in ways of helping people to talk about their mental health and many problems they may have locked up inside. The 2 charities will be linking up together to provide some lunch time talks surrounding the stigmas we see around men's mental health and to explain a bit about themselves.
The Craig Tyler Trust is a charity set up in the memory of a beloved boy, who, after a battle with mental health, took his own life, at the age of just 22, in 2018. Craig left his family and friends grieving immensely and they wanted to make sure that anyone who needed support doesn't suffer in silence so they set up The Craig Tyler Trust, vowing to help as many people as possible. Thereafter they all trained in mental health awareness and suicide prevention, intervention and postvention.
The Craig Tyler Trust, based in Pitsea is now a registered charity – Home (thecraigtylertrust.co.uk) – number 1192176, they offer support 6 days a week to anyone who is suffering from any type of mental ill health.
Andy's Man Club is a men's suicide prevention charity, offering free-to-attend peer-to-peer support groups across the United Kingdom and online. They want to end the stigma surrounding men's mental health and help men through the power of conversation. #ITSOKAYTOTALK. ANDYSMANCLUB has over 120 free support groups nationwide, running every Monday from 7PM except bank holidays. In these groups, men can open up about the storms affecting their lives in a safe, judgement-free and non-clinical environment. The clubs are designed to be free of pressure, with no obligation for men to speak, they can simply listen if they wish.
Established in 2016 by Elaine, Andy's Mum, and Luke, Andy's Brother-in-Law, the aim of the club is to provide men with a safe space where they feel comfortable to talk and open up about their experiences in a room free of judgment. The link is – Andy's Man Club | #ITSOKAYTOTALK | Andy's Man Club (andysmanclub.co.uk)
We invite you to take part in this amazing day at the Brentwood Centre. The adults football tournament consisting of 32 teams that will start in a group stage and progress on to a knockout stage. Following this we are running a smaller kids tournament consisting of 16 teams with a similar structure of groups and knockout stages and it would be great for any of the adult teams to try and gather their kids together to try to fill a kids team too. Finally for the less agile we have walking football consisting of 8 teams for a bit of fun, again knockout stages. Each game will be refereed.
We have a guest attending on the day with the Ferdinand Football Group and they will also be doing some promotion for any local kids looking to join up to an academy.
Business opportunities.
If businesses are not in a position to enter a team, there is a possibility of sponsoring a team, the trophies, the printing of the programme or activities. Sponsorship would benefit the two marvellous charities and would be recognised in the programme. Sponsorship varies from £250, £500, £750 to £1000.
There is the opportunity for many of the local companies to setup a business stand to promote themselves, for an extremely reasonable £60 for a 3m x 3m gazebo pitch, you would need to bring your own marquee, table, chairs etc. Craft stands are also welcome at £40 per 3m x 3m pitch and charities are a token amount of just £10 per pitch.
If you are in a position to sponsor or wish to come along with your stand please email jane@bennettsfunerals.co.uk for details on how to pay etc. Your risk assessment and public liability would need to be sent in advance of the day.
The day will have activities booked so far include: –
1. LETS GET OUT
2. ROCKYS WONDERFUL CREATURES
3. FACE PAINTERS
4. HEADERS AND VOLLEY TENNIS
5. BRENTWOOD FIRE SERVICE
6. BRENTWOOD POLICE
More activities are being booked very soon. There will be First Aid on site.
Brentwood Town FC have been so kind as to let us use their facilities, bar area and will provide catering from there in way of burgers etc, they will also headline the finish of the day with a pre-season friendly against Potters Bar FC and the presentations for our football tournament will be on the Brentwood Town FC pitch.
Trophies will be given out to the winners and runners up of the adults football
Trophies will be given out to the winners of the walking football
Medals will be given out to all the kids teams with trophies to winners and runners up
Goodie bags for all teams.
Catering –
1. BRENTWOOD TOWN FC
2. RONNIES KITCHEN
3. CRAZY MARE CATERING
4. SQUARES AND CIRCLES PIZZA
5. BUFFALO JOES
Parking on site by the Brentwood Town FC through the drop bar gate area and the overflow parking is on The Brentwood Centre site round by the 3g pitches, (gravel parking area). Please fill the parking past the drop bar gate at the Brentwood Town FC side first and then the overflow area before we start to use The Brentwood Centres main car park.
Entry to the football tournament is via Eventbrite on the attached flyer, or scan the QR code. If there are any questions please do ask.
The link is https://www.eventbrite.com/e/charity-football-tournament-mental-health-awareness-suicide-prevention-tickets-629211186597
As a company Bennetts Funeral Directors have looked after funeral arrangements for men and women who have tragically died by suicide. We see first-hand how the desperate loss affects the immediate family and ripples through relatives, friends, neighbours, colleagues, school friends etc, whose lives are changed forever by the loss.
If just one life is saved by this event I will consider it a success.